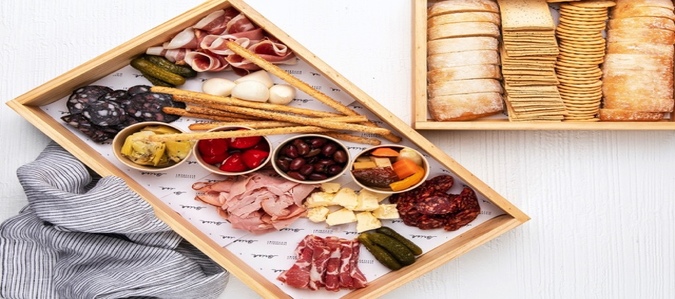 Let's face it we all love to cater to our friends! We all love being around people and entertaining in the comfort of our own homes. 
Whether it is having some pizzas paired with a nice bottle of vino or tacos with a bucket full of corona and lime. 
Food brings people together and makes the experience much more fulfilling. Thus in this article, we are going to provide you with some crowd pleasures that we have created for our private and corporate catering events that win over the fussiest of eaters. 
Grazing boards
Personally, I don't know anyone that doesn't like food options a grazing board provides, we provide them for both private and corporate catering functions… if you do find someone this is someone you definitely want to not invite to your next party (jokes! Still invite and make it your goal to convert them)
Grazing boards are relatively easy to put together, and you can find all the items easily from your local grocery store. 
My go-to is the deli selection where I like to buy some cheeses, deli meats, and marinated items. I suggest picking some staple cheeses such as brie, blue vein, cheddar, and buffalo mozzarella. 
For my deli meats, you can't go wrong with some Proscuitto, Sopressa, Mortadella. Pick up your favorite dips, mine are basil pesto and spicy capsicum, marinated olives, sun-dried tomatoes are nice add-ons, and you will need good quality crackers or lavosh, which our corporate catering customers love. 
Start by laying out your dips and marinated items on a board or large platter, build around these items with your cheeses and crackers, add your cold meats (folding or rolling your meats will be the most difficult task on this platter). 
I also suggest adding slices of fresh fruit such as watermelon, rockmelon, honeydew, grapes, and strawberries. The fruit will complement your meats and cheese and help clear the palate.
Mini Burgers are popular with our corporate catering customers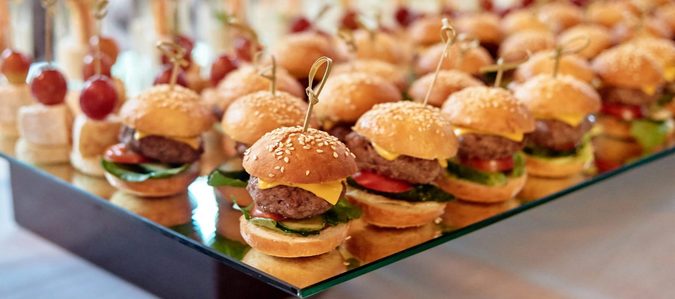 The great thing is that there are some really great quality brioche mini burger buns are available everywhere and considering this makes up 50% of the burger half your work is done. I suggest buying a lean beef mince and some chicken thighs for your protein, buy some premade slaw, shredded lettuce, tomato, and some burger cheese. 
At our corporate catering facility, we lightly salt and pepper the mince and ball into around 60g patties and cook on a hot oiled pan, with your chicken thighs, cut into pieces, coat in seasoned potato starch, and lightly fry in pan/pot with shallow oil. 
Now you have completed the prep work the fun begins and you can build these bundles of foodie delight. Add in between the brioche buns your lettuce, patty, sliced tomato, pickles, cheese, and condiments. For the chicken, I add fried chicken, slaw, pickles, cheese, and mayo. 
Rice Paper Rolls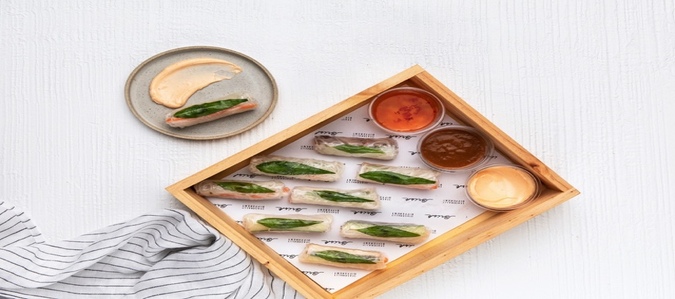 Depending on your personality type, rice paper rolls can be very therapeutic or frustrating to make. If you don't like fiddly things I suggest moving on to the next item, but if you are game to create my favorite catering option for private and corporate catering, read on!
The shopping list can be found in the international food aisle at your local, you will need some rice paper, vermicelli noodles, sweet chili sauce. From produce get some fresh mint, coriander, carrots, and cucumber. Prep wise soak the noodles in hot water for 10 minutes then drain, roughly chop the coriander and mint, cut into batons some cucumber and carrot. 
For protein, you can use chicken, sliced beef, or some pre-cooked Peking duck. 
Now to the fun part! Let's roll!
Dip your rice paper in a bowl of lukewarm water and lay it on your kitchen bench lined with some cling wrap (This will help you roll your rice paper roll as it is less likely to stick to your benchtop). Add to the middle of your rice paper a pinch of noodles, protein, cucumber and carrot batons, coriander, and mint. Add a couple of drops of sweet chili for extra flavor and you are ready to roll. 
Grab the bottom of your rice paper and fold over the rice paper filling, fold over each side and complete your roll. There are plenty of videos online if you need a visual of the process.
If you want more suggestions feel free to view our website which has even more private and corporate catering ideas.